Rehab centers are the ultimate choice for those who want to overcome addiction. They provide a complete array of services aimed at body detox and psychological improvement. By finding the real cause of addiction, specialists help people solve inner conflicts and enjoy fulfilled life without toxic substances.
Substance abuse is the most common type of dependence which takes the roots in human psychology and affects the body, too. No matter what the object of addiction is, the disease sooner or later takes a negative toll on a person's life. Affecting people at both physical and psychological levels, it is almost impossible to get rid of on one's own.
Following the drug rehab program makes it possible to complete the detoxification recovery process in a friendly, caring, and safe environment. In or list, you will find 30 rehab centers with a variety of recovery plans for teens, adolescents, and adults.
1. Sierra Tucson
Ranked as one of the best rehabs in Arizona 2020, Sierra Tucson provides personalized treatment programs and deals with various kinds of addictions (alcohol, drugs, etc). The center offers a large gamut of services and evidence-based practices – all combined in a holistic approach. Patients work with a multidisciplinary team of therapists, doctors, nurses, and case managers.
Address: 39580 S Lago Del Oro Pkwy, Tucson, AZ 85739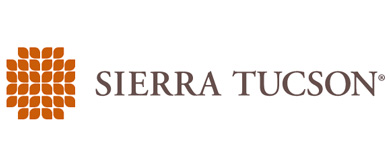 More Information on SierraTucson.com
Sierra Tucson provides various options, such as:
Psychological testing;
Anger management;
12-step meetings;
Expressive art;
Adventure therapy;
Personal training;
Relapse prevention.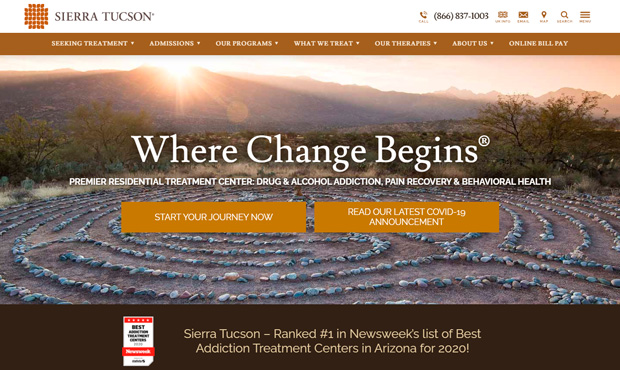 Upon finishing the residential treatment, customers can opt for the aftercare program – it's very efficient for relapse prevention. With over 3 decades of success, Sierra Tucson is a cool choice for people who want to reach long-term sobriety.
The rehab is accredited by multiple organizations, so its practices exceed standards. Dozens of positive customer reviews prove that it's a worthy place.
2. Cottonwood Tucson
Being established over 20 years ago, this rehab offers a residential program that's aimed at improving behavioral health in patients. Clients work with the multidisciplinary team of licensed psychologists, psychiatrists, nurses, physiologists, nutrition experts, substance use counsellors and other specialists. The team deals with substance abuse, eating disorders and other forms of addictive behavior. The major programs include addiction education, 12-step programming and relapse prevention planning.
Address: 4110 W Sweetwater Dr, Tucson, AZ 85745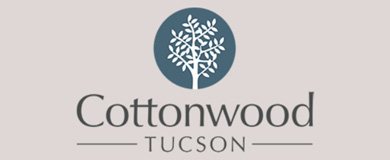 More Information on CottonwooddeTucson.com
Customers of Cottonwood Tucson enjoy a well-structured environment and individual treatment plans which include:
Individual Therapy;
12-Step Meetings;
Expressive Arts Groups;
Challenge Course;
Psychoeducational Lectures;
Experiential Therapy.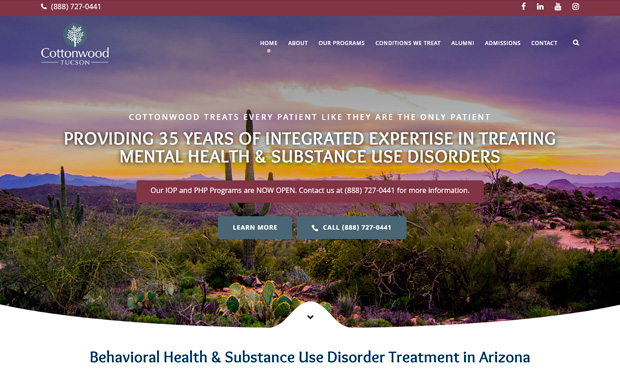 Cottonwood Tucson is accredited by CARF, NBCC and other organizations. It accepts some insurance plans (Humana, Beacon, Aetna, Bright, etc.). The overall rating is quite high.
3. America's Rehab Campuses
If you're in search of a quality rehab that offers comfortable living conditions, ARC should be your primary choice. It offers high-end facilities with private and semi-private bedrooms, fitness facilities, pool, lounge zones and many other amenities. Each customer undergoes detailed assessment of physical and mental health to get an individual treatment plan.
Address: 6944 E Tanque Verde Rd, Tucson, AZ 85715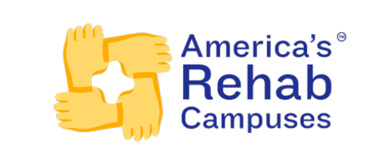 More Information on AmericasRehabCampuses.com
Which treatment options are available in ARC?
Drug detox;
Cognitive Behavioral Therapy;
Motivational enhancement therapy;
12-step support groups;
Family therapy;
Dual Diagnosis Treatment;
Aftercare support.
Why choose ARC? They deal with co-occurring disorders, i.e. things that cause addiction. Together with specialists, patients define their personal triggers and learn to eliminate them. Besides, customers learn to stay away from negative environments and friends having a negative impact.
The rehab is accredited by the Joint Commission. All programs can be covered by most insurance plans (should be verified beforehand). There's a huge number of positive customer reviews in Google.
4. Sonora Behavioral Health Hospital
The hospital provides inpatient treatment programs for adults suffering mostly from mental health issues and people in need of MAT. The team deals with all kinds of chemical dependence. Since the hospital mostly focuses on medication-assisted treatment and detox, the average length of stay is not long – about 8 days.
Address: 6050 N Corona Rd, Tucson, AZ 85704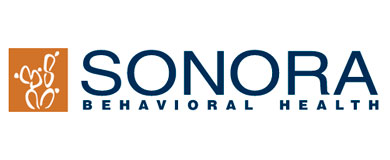 More Information on SonoraBehavioral.com
The inpatient program has many crucial components:
Psychiatric care (diagnosis, treatment);
Medical care;
Social worker-led groups;
Behavioral health technician groups;
Educational groups;
Evidence-based group therapies;
Family meetings.
If inpatient treatment is not an option, customers can try Chemical Dependency Intensive Outpatient Programs (CDIOP). They will visit groups three hours a day for 12 weeks. All in all, this hospital is recommended for people who want to start treatment efficiently and identify the reasons for addictive behavior. After finishing MAT, they can get referrals to third-party centers for further recovery.
Sonora Behavioral Health Hospital accepts all major insurance plans (Aetna, Beacon, Cigna, BlueCross, Medicare, Humana and others).
5. La Frontera Center
Being established in 1968, La Frontera Center works with public and private partners to solve customers' problems. The team deals with behavioral health problems, crisis situations, and, of course, substance abuse problems. The center provides clients with access to various resources, including over 1,200 professionals, housing facilities over Arizona, as well as social services.
Address: 502 W 29th St, Tucson, AZ 85713
More Information on LaFronteraAZ.org
La Frontera Center provides various CARF-accredited programs, such as:
Case management;
Inpatient and outpatient treatment for adults, teens and adolescents;
Residential treatment;
Job support;
Crisis intervention;
Prevention and diversion programs.
Note that treatment is not performed right at the center – it rather deals with referrals and evaluation. However, if you have problems finding a suitable rehab, this should be your first step – you'll get initial guidance and assistance. Besides, it works with customers of all ages.
La Frontera Center partners with various organizations, so customers can find any help they need. Many services are provided free of charge, however, the programs and centers that receive referred patients can ask for payments.
6. Recovery in Motion
Recovery in Motion deals with many kinds of addiction, including alcohol, drugs, prescription medications, etc. It works with entire families, including teens and adolescents. There are many affordable treatment programs, and all recovery plans are individualized. Recovery in Motion is the place where customers can undergo the entire treatment way from detox to aftercare support.
Address: 1604 N Country Club Rd, Tucson, AZ 85716
More Information on RecoveryinMotion.com
Treatment options in the rehab include:
Individual Therapy;
12-Step Participation;
Dual Diagnosis Treatment;
Anger Management;
EAP (Employee Assistance Program);
Trauma-Informed Therapy;
Art Therapy;
Yoga.
This rehab is recommended for people who want a variety of services to choose from and a supportive community around.
Recovery in Motion is accredited by the Joint Commission. It accepts many insurance types that can be verified online. Judging by reviews in Google, people enjoyed the process of treatment and liked the attitude of professional staff.
7. CODAC Health, Recovery & Wellness – Alvernon
One of the oldest and most respected community providers in Arizona, CODAC serves over 9 treatment locations and offers the help of highly trained multidisciplinary staff (psychiatrists, nurses, peer support specialists, care providers, social workers, etc). First and foremost, they deal with customers' mental health issues – that allows achieving lasting results.
Address: 1650 E Fort Lowell Rd #202, Tucson, AZ 85719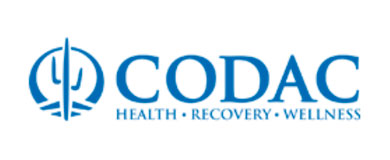 There's a rich choice of gender-specific programs and groups. What to expect from treatment in CODAC?
Individual and group counseling;
Dial diagnosis;
Dialectical behavioral therapy;
Moral recognition therapy;
Relationship building classes;
Anger management groups;
Parenting classes.
While receiving treatment in the center, customers can also get help with housing and employment. What else can be found in this rehab? Suicide prevention groups, couples and family counseling and support, help to people from the LGBTQ community, and so much more.
CODAC is accredited by CARF and MHCA. It works with various insurance plans.
8. Turn Your Life Around Counseling and Recovery Center
This is a counseling and recovery center that deals with various issues, including homelessness, poverty, addiction and mental illnesses. They specialize in personal counseling and addiction treatment. The classes are aimed at raising awareness about addiction, sharing experiences and giving guidelines along with supporting each other.
Address: 1109 W Prince Rd #111, Tucson, AZ 85705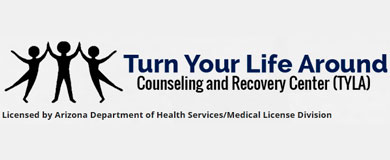 More Information on TYLAHelps.com
TYLA offers a 12 to 24 week curriculum that's focused on reaching long-term, sustained recovery. The group counseling sessions tackle such issues as:
Addiction awareness and understanding;
Relapse prevention;
Personal responsibility;
Problem-solving;
Cognitive self-change;
Anger management.
Also, there's a variety of DUI services available: education, treatment classes, drug and alcohol screening, assessment, evaluations. Besides, there are diversion classes held 6 days a week. Thus, TYLA is recommended for relapse prevention, early prevention and people who need community support.
The center accepts direct payments and provides some services for free. Former customers are very grateful and say that the staff is professional.
9. COPE Community Services
The center provides residential treatment services for people with mental health disorders and behavioral problems. Each customer gets an individualized treatment plan and works with a multidisciplinary team. There are different treatment modalities available, including outpatient services, relapse prevention, SMART Recovery and so on.
Address: 1477 W Commerce Ct, Tucson, AZ 85746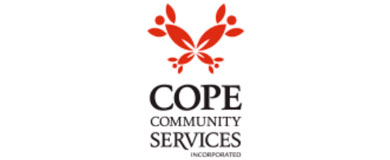 More Information on COPECommunityServices.org
What's included in the residential treatment program?
24/7 medical supervision;
Behavioral health counseling;
Social and recreational activities;
Anger management classes;
Relationship building classes;
Treatment of co-occurring disorders;
Transportation services.
All in all COPE center is recommended for customers who need the whole spectrum of services and need both primary medical care together with specific counseling classes. Judging by customer reviews, the center is very helpful, and the staff is professional.
10. Sabino Recovery
Sabino Recovery offers residential treatment and combats addictions by using trauma-informed practices. The residential program lasts 35, 45 or 60 days depending on the patient's state and goals. The team provides 24/7 physical, mental and emotional support. The program is aimed at overcoming conditions that cause dependence, such as depression, anxiety, PTSD and so on.
Address: 8505 E Ocotillo Dr, Tucson, AZ 85750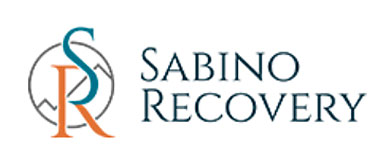 More Information on SabinoRecovery.com
Sabino Recovery uses various solutions and practices:
Dual diagnosis;
Development of problem-solving skills;
EMDR;
Outdoor adventure therapy;
Art and expressive therapies;
Integrative therapies.
Aside from treating substance abuse, Sabino Recovery also deals with eating disorders and traumatic experiences. Thus, the center is recommended for people who need a holistic approach and a team to address their inner triggers and problems.
Note that Sabino Recovery does not accept Medicaid, Medicare or AHCCSS as it is a private pay facility.
11. Behavioral Awareness Center
This facility specializes on medication-assisted treatment and counseling. At the same time, the team practices a holistic approach and addresses customers' mental, physical and spiritual needs. The center deals with alcohol and drug dependence.
Address: 2002 W Anklam Rd, Tucson, AZ 85745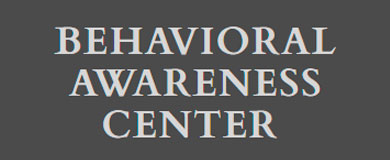 More Information on BACMethadone.com
While getting prescribed medications, customers also attend counseling sessions dedicated to:
Triggers and addiction awareness;
Post-acute withdrawal symptoms;
Relapse prevention.
All MAT programs' prices are published on the official website. Behavioral Awareness Center is recommended for people who want to start treatment or get early prevention. No appointment needed – walk-in is allowed.
The center accepts direct payments. Customer feedback is exceptionally positive, and the staff is said to be very respectful.
12. Community Medical Services
This rehab provides medication-assisted treatment, counseling and community-based services. It uses FDA-approved medications for MAT.  The team offers correctional health services and educational classes. Treatment in CMS is aimed at raising addiction awareness and getting patients clean from toxic substances.
Address: 9449 N 90th St #210, Scottsdale, AZ 85258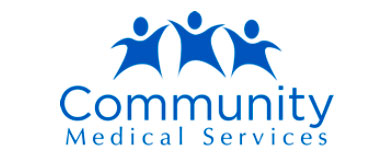 More Information on CommunityMedicalServices.org
Which services are available in CMS?
Medication-assisted treatment;
Family services;
Relationship building classes;
24\7 medical assistance.
CMS is a nice option for people who don't know what to start with. They can get adequate medical treatment while visiting a psychologist and finding the reasons for their addictive behavior. Note that there's no residential treatment available, so customers are recommended this rehab for relapse prevention or as an ongoing aftercare support option.
Community Medical Services is a CARF-accredited center. Judging by numerous 5-star customer reviews, this center changed many lives for the better thanks to the team's professionalism.
13. Haven
Haven offers gender-specific substance abuse services for female patients. The team supports women struggling with substance abuse and treats them without judgment and bias. This is a great place for those who want to be surrounded by a supportive community and regain control over their lives.
Address: 1107 E Adelaide Dr, Tucson, AZ 85719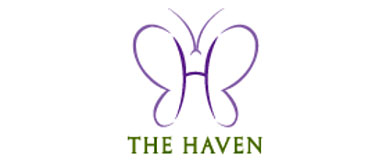 More Information on TheHavenTucson.org
Haven offers flexible treatment options and has both residential and outpatient modalities (both facilities are located in Tucson), so customers can combine treatment with family life and other obligations.
Which services are available?
Individual and group counseling;
Relapse prevention skill training;
Motivational interviewing;
Coping skills therapy.
Thus, while living together, customers support each other and visit group therapy that helps them identify the reasons for addiction and eliminate those. The conditions of the living facility are more than good, so customers can relax and get rest from triggers and stress.
Haven is accredited by CARF and the National Association of Addiction Treatment Providers. It accepts various insurance plans, including Humana and Blue Cross/Blue Shield.
14. ETANO Center
ETANO Center provides comprehensive outpatient drug rehabilitation services and detox for people suffering from chemical dependence. It uses FDA-approved medications (Suboxone) for treatment. The rehab provides a decent range of recovery programs, medications and highly trained staff.
Address: 3956 E Pima St, Tucson, AZ 85712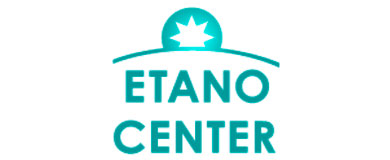 More Information on ETANOCenter.com
Which services are available in ETANO Center?
Cognitive Behavioral Therapy;
Medical and laboratory services;
Individual counseling;
Relapse Prevention;
Peer/Recovery Support;
Medication-assisted treatment.
The duration of treatment is not fixed. Customers are free to receive services for as long as required to reach the desired results and lasting sobriety. Once the major programs (detox and outpatient) are finished, customers can opt for the Extended Take Home Program as well as aftercare counseling.
ETANO Center is accredited by CARF and Arizona Department of Health Services. All programs by the rehab are performed according to the SAMHSA's standards. The rating in Google is exceptionally high.
15. Intermountain Centers
Founded in 1973, the network of Intermountain Centers offers a full-fledged residential rehab for adults and youth in transition. It offers programs aimed at the support of the individual abilities of each member. The personnel not only provides 24/7 medical supervision but also teaches necessary skills and assists residents in employment searching.
Address: 5055 E Broadway Blvd c104, Tucson, AZ 85711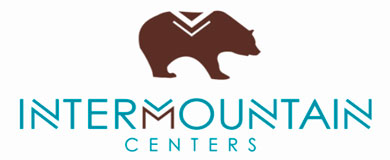 More Information on IntermountainCenters.org
Customers can live in group residences or semi-independent apartments. The duration of treatment and modalities used are defined by the chosen programs. What's available in Intermountain Centers?
Health and wellness education;
Recreational opportunities;
Emotional management classes;
Individual and family sessions;
Evidence-based practices.
All in all, the Intermountain Centers network is recommended for people who need a flexible approach to residential treatment and need both psychological and community support. It accepts people of all age, ethnicity, sex, orientation and with any health issues. Customer reviews are scarce but pretty positive.
16. Circle Tree Ranch
Being around for about 50 years, Circle Tree Ranch offers an alternative approach to treatment and diverse programs aimed at overcoming addictive behavior. The Ranch is located on a beautiful 60-acre campus. The residential program is aimed at helping people overcome traumas, identity problems, boost self-esteem, learn life skills and discover personal triggers that hinder their full recovery.
Address: 10500 E Tanque Verde Rd, Tucson, AZ 85749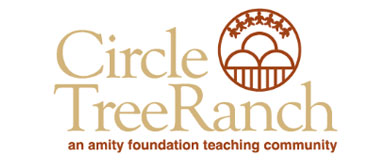 More Information on CircleTreeRanch.org
What's included in the program by Circle Tree Ranch?
Co-occurring Disorders;
Music Classes;
Meditation and Yoga;
Health & Nutrition counseling;
Fitness Center.
Note that the center accepts parents with children and also has specific LGBTQ accommodations. It's culturally sensitive, so different people will feel comfortable there.
Circle Tree Ranch accepts some insurance plans – they can be verified online. It's also possible to enroll on the official website.
17. Connections Health Solutions
The rehab provides personalized treatment for every patient and also offers immediate mental health help. They accept all patients, with or without insurance. The center would be of much use for people with anxiety or panic attacks, depression, suicidal inclinations, paranoid thoughts, substance intoxication or withdrawal symptoms.
Address: 1135 N Jones Blvd, Tucson, AZ 85716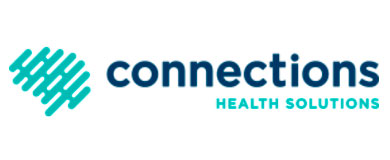 More Information on ConnectionsHS.com
What's included in the list of services by Connections Health Solutions?
Integrated behavioral and physical treatment of health issues;
Medication support;
Mobile crisis response;
Addressing social determinants of health;
Crisis hotline;
Residential and in-home services.
Each program has a particular duration and is assigned after a thorough medical and psychological assessment. CHS is recommended in cases when a person needs immediate support of his/her mental health. It can be a lifesaver for addicts in crisis situations. Besides, CHS assists people who have decided to undergo the hard withdrawal procedure.
The rehab is accredited by CARF. It accepts some insurance plans which can be verified online. No customer reviews were found online, so we recommend doing your own research before opting for this center.
18. Cornerstone Behavioral Health – El Dorado
Cornerstone center in El Dorado provides acute inpatient treatment for mental health and substance abuse. It offers diverse modalities, such as medically-assisted detox (MAT), mental health stabilization (dealing with illnesses), admission and referral services, and so much more.
Address: 1400 N Wilmot Rd, Tucson, AZ 85712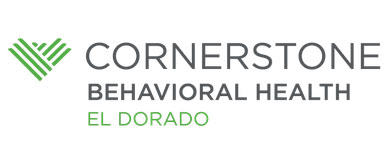 More Information on CornerstoneElDorado.com
The following therapies are available in CBH:
Individual counseling (daily sessions);
Family therapy, education and support;
Educational classes;
Psychoeducation (anger management, coping skills, assertiveness, and so on);
Cognitive-behavioral therapy;
Recreational therapies (social skills, journaling, resource education, pet therapy, stress management, self-expression, etc.).
It goes without mentioning that the program is also aimed at medical stabilization and customers' wellness. Patients learn to take care of their body and spirit, they are also taught daily skills and the basics of healthy nutrition.
Hence, CBH is a nice choice for patients in need of a well-rounded approach. However, it provides outpatient treatment mostly, so this is a temporary option or a nice variant for relapse prevention.
Cornerstone Behavioral Health is accredited by The Joint Commission. Customer reviews are mixed because people had different experiences.
19. Teen Challenge of Arizona
Being around for over 55 years, Teen Challenge of Arizona helps young patients with alcoholism, drug addiction and life-controlling problems. It runs a multitude of programs aimed at helping teens get back on track. There are different support events and classes held, so the organization's assistance is diverse.
Address: 8464 N Oracle Rd, Tucson, AZ 85704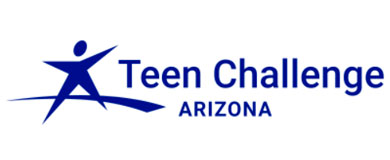 The center accepts adolescents aged 12-17 with a minimum 3-month commitment. Also, it accepts women with children with a minimum 12-month commitment.
Please, note that this is a Christ-centered ministry that does not offer a clinical approach to recovery. Instead, residents are involved in discipleship to become emotionally balanced, socially adjusted, physically well and spiritually alive.
In Tucson, the network runs a residential recovery for men aged 18+. Their treatment program also includes discipleship, as well as:
Classroom studies;
Mentoring programs;
Group and individual mentoring programs;
Chapel services;
Community outreach and fundraising events.
Teen Challenge of Arizona is recommended for people with a limited budget and a strong willing to overcome dependence for good. If Christian-based treatment is okay with you, this place should be comfortable. Judging by reviews, most people are content with this place and its approach to treatment.
20. Burning Tree West
Burning Tree West mostly specializes on sober living and 12-step therapy. The community helps people with substance abuse and mental health problems. It gives people necessary support and encouragement to start over a new life. Having over 20 years of expertise the center helped thousands of patients.
Address: 3148 E 2nd St, Tucson, AZ 85716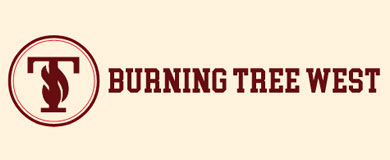 More Information on BurningTreeWest.com
While living in a comfortable and beautiful sober house, patients try various activities and treatment modalities, for example:
Individual and group therapy;
Life skills training;
Community services;
Effective time management;
Work ethic coaching.
Note that students also allowed to live in the community and combine treatment with education. They can also get help with acquiring employment.
The minimum commitment to the program is 3 months though the average duration of treatment is 6-12 months. During this time, residents can get care of their vocation, volunteer, continue education and participate in community-related sober activities.
Burning Tree West accepts various insurance plans (Cigna, MultiPlan, Beacon, ACPN, BlueCross/BlueShield, etc). The rating in Google is pretty good, though former patients had different experiences.
21. In Balance Counseling
Established in 1996, In Balance Counseling offers intensive outpatient services for people with substance abuse and co-occurring mental health disorders. They incorporate a holistic approach to treatment and address the physical, psychological, emotional, social and spiritual needs of each customer.
Address: 6107 E Grant Rd, Tucson, AZ 85712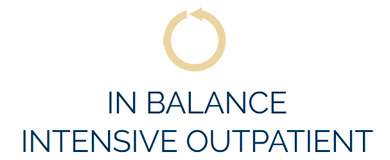 More Information on InBalanceCounseling.com
The list of services provided by the center is pretty extensive:
Cognitive-behavioral therapy;
Dialectical behavioral therapy;
Recreational and experiential therapies;
Drug and alcohol screening;
Yoga and meditation;
12-step program (AA and NA meetings).
Residential recovery in this rehab cover all needs and requirements of customers, so it's a must-try for people who want to reach lasting sobriety. Customers can choose a convenient treatment modality and have the program duration customized after assessment.
In Balance Counseling is accredited by the Joint Commission. It accepts various types of insurance (Cigna, Aetna, BlueCross/BlueShield, UnitedHealthCare). Customer reviews are exceptionally positive.
22. Zen Institute
The rehab offers an innovative 4-week intensive outpatient program that includes a large variety of treatment modalities and services. The team treats not only substance abuse – it also helps people with eating disorders, sexual abuse problems, relationship addiction, obsessive-compulsive disorders and other behavioral problems.
Address: 5210 E Pima St Suite 110, Tucson, AZ 85712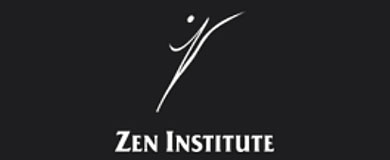 More Information on MyZenInstitute.com
What exactly do customers try during the outpatient program?
Cognitive-behavioral therapy;
Dialectical behavioral therapy;
The classes for positive thinking mindset;
EMDR.
As the center's name suggests, Zen Institute bases its programs on mindfulness practices. This rehab is perfect for people who need to take some time off and process their emotions and thoughts. The supporting community will help them find the way to inner self and get rid of psychological and mental triggers.
Zen Institute is recommended for those who tried traditional approaches and failed. For people who want to analyze their personality, become aware of their psychological problems and acquire coping skills. Judging by praising customer reviews in Google, this program works well but is quite expensive.
23. Desert Star
Being established in 2009, Desert Star helps people with drug and alcohol issues, mental health disorders, eating disorders, sex addiction and relationship issues. The center mostly offers outpatient programming and telehealth services. Each customer participates on a voluntary basis and is free to leave if there's something wrong. Clients work with qualified and compassionate staff members who address all pain points.
Address: 7493 N Oracle Rd, Tucson, AZ 85704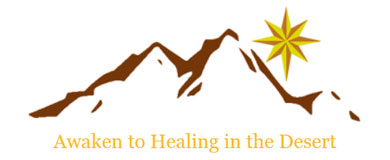 More Information on DesertStarArc.com
There are three major types of programs available: Outpatient, Intensive outpatient and partial hospitalization. What's included in these programs?
Individual counseling;
Psychological testing;
Education about mental health;
Psychiatric evaluation;
Group counseling;
Relationship building classes;
Treatment of co-occurring disorders.
This rehab is recommended for people who need quality outpatient treatment and all essential therapies received in one place. In case with Desert Star, customers can combine recovery with work and family life, so it's a nice choice for relapse prevention or right after finishing detox/residential treatment.
Desert Star accepts all major insurance plans (Humana, Aetna, Tricare, Cigna and others).
24. Buena Vista Health and Recovery Centers
Buena Vista offers an inpatient substance abuse rehab program for people with substance abuse issues and addictive behavior. Customers work with a multidisciplinary team of doctors, nurses, therapists, case managers. The therapy is aimed at behavior modification.
Address: 5151 E Pima St, Tucson, AZ 85712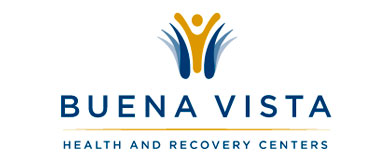 More Information on BuenaVistaRecovery.com
Which services and therapies are available?
Detox;
12-step meetings;
Treatment of co-occurring disorders;
Group and family sessions;
Individual sessions with a psychologist;
Dual diagnosis;
Trauma-focused therapy.
The average duration of inpatient treatment is 7-28 days. While being through recovery, patients concentrate on the roots of addiction and learn to overcome it for good. All in all, the center provides the whole gamut of necessary services for combating addictive behavior and its reasons.
Buena Vista is accredited by The Joint Commission. It accepts a few insurance plans (they can be verified online). Customers are mostly content with the quality of services and overall experience.
25. Pima Prevention Partnership
Pima Prevention Partnership was established in 1992 as a non-profit organization that focuses on intervention, prevention and counseling. This rehab helps both adults and youth (aged 13-20) to overcome addiction and addictive behavior patterns. They also partner with middle and high schools to organize prevention programs.
Address: 1477 W Commerce Ct suite a, Tucson, AZ 85746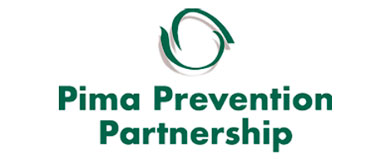 More Information on ThePartnership.us
Those who prefer counseling as the major treatment tool should consider the Sin Puertas program. It includes:
Comprehensive screening to assess most appropriate levels of care;
Individual and IOP group counseling;
Life skills (thinking & social skills, money management, health education);
Healthy relationship building;
Pathways coaching;
Family support services;
Recovery support groups and peer-led activities.
There's a separate program for youth aged 13-21 who are homeless or are at risk of being homeless – its programming components are similar to what's mentioned above.
Since PPP is a non-profit organization, customers can get some treatment services for free or for a fraction of their cost. Customer reviews are mixed, so you should make your own research: visit the facility and talk to specialists working there.
26. Center For Behavioral Health
This center runs several convenient drug addiction treatment centers with one located in Tucson. It mostly works in two directions: detox and counseling. The rehab's team provides counseling sessions for individuals, families and teen. All counsellors are involved in continuous education and training which enhances their therapeutic effectiveness.
Address: 2437 N Stone Ave, Tucson, AZ 85705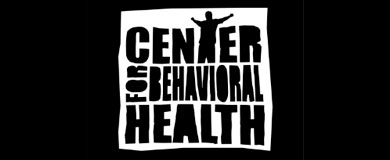 More Information on CenterForBehavioralHealth.com
What to expect from treatment in Center For Behavioral Health?
Group and individual counselling;
Medical detox;
Classes for the victims of domestic violence;
Anger management classes.
The duration of treatment is defined individually after medical assessment. Each treatment program is individualized to cover the customers' needs.
Center For Behavioral Health is accredited by CARF to provide opioid treatment. All rates are mentioned on the official website. Overall rating in Google is quite high – customers say that the staff is professional and friendly.
27. Desert Rose Clinic
Patients of the Desert Rose clinic communicate with a large multidisciplinary team (psychiatrists, doctors, nurses, recovery coaches, case managers, etc.). There is no residential treatment available. Instead, customers can choose from behavioral health services and an all-out wellness program. Crisis care is also provided in emergency cases. The clinic promises to introduce medication-assisted treatment soon.
Address: 5055 E Broadway Blvd a200, Tucson, AZ 85711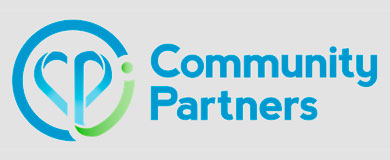 More Information on CommunityPartnersInc.org
What kind of services is available in this rehab?
Counseling for individuals, groups and families;
Behavioral therapies (CBT, DBT);
Crisis stabilization development plan;
Mental Health First Aid (MHFA);
Training for suicide prevention;
Evidence-based educational program;
Peer support;
Health screening;
Telemedicine options.
Desert Rose Clinic accepts some insurance plans – they can be verified without leaving home. Overall rating is good, the only complain is organizational issues – some customers cannot contact the facility.
28. Carondelet
Carondelet offers comprehensive mental health treatment in St Mary's hospital (for senior patients mostly) and O'Rielly Care Center (for patients aged 18+). It offers psychiatric care in emergency cases and for long-term treatment. The multidisciplinary team leads patients through the entire recovery way starting from detox and ending by behavioral health sessions for relapse prevention.
Address: 1601 W St Marys Rd, Tucson, AZ 85745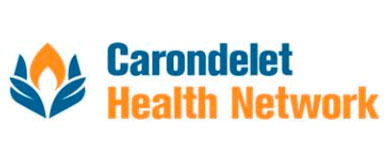 More Information on Carondelet.org
The list of services in Carondelet includes:
Medical and psychiatric assessments;
Detox and stabilization services;
Crisis intervention;
Monitoring of prescriptions and other medications;
Support groups and activities;
Expressive arts therapy;
Individual and family therapy.
The center has a holistic approach: it addresses patients' physical, psychological, social, spiritual and so on. For this reason, they work with a wide range of specialists: doctors, nurse practitioners, nurses, behavioral health technicians, occupational therapists, art therapists and social workers.
Cardonelet works with some insurance plans but there is no financial information available – it should be requested in person.
29. AMI Behavioral Health Counseling Center
This center offers flexible programs to assist people in finding a successful solution for coping with substance abuse and other problems. With 'Prevention Through Empowerment' being their motto, the center aims at supporting customers through group sessions.
Address: 6700 N Oracle Rd UNIT 411, Tucson, AZ 85704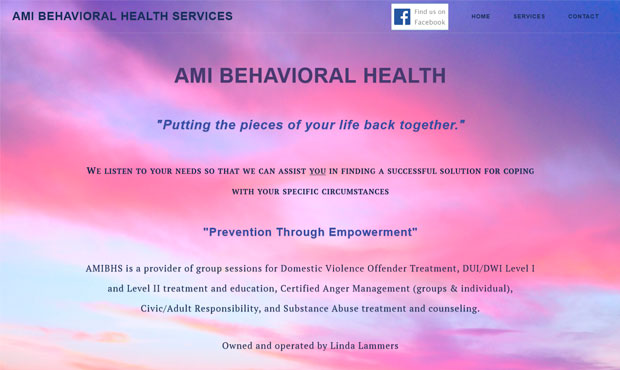 More Information on AMIBehavioralHealth.com
Which kinds of counseling are available in AMI Center?
Civic/Personal Responsibility & Accountability;
Couples Conflict Resolution and Communication Skills;
Alcohol and drug addiction;
Anger management;
Monitored Diversion Classes.
During these classes, customers learn to distinguish destructive behavioral patterns and replace them with useful habits. They develop coping skills and reach effective changes, restore relationships with family and regain position in society. Note that the duration of treatment is only limited by class schedule – customers are free to access outpatient services for as long as they need.
The center offers affordable rates and accepts direct payments. It does not work with insurance plans. There aren't many customer reviews but they are 5-star ones: people loved the services.
30. Bridges Tucson
Bridges Counseling is a state-licensed outpatient clinic that helps people suffering from substance abuse, DUI and domestic violence. It teaches people to make conscious choices, reconnect with themselves and family, and become better personalities. The outpatient program is helpful for individuals and entire families.
Address: 5930 E Pima St UNIT 208, Tucson, AZ 85712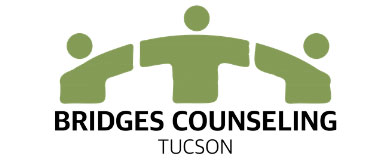 More Information on BridgesTucson.com
What to expect from treatment in Bridges Tucson?
Substance abuse evaluation and education;
Anger management;
Gender-specific domestic violence offender treatment;
Individual and group counseling;
Relapse prevention.
By addressing customer's mental, physical, social and psychological needs, the experienced team helps people finally become what they want to be. They regain confidence and control over their lives, feel happier and enjoy sober activities. Those who need DUI classes get help to comply with court-ordered treatment.
Judging by the reviews of Bridges Tucson, this is a worthy solution for everyone who needs quality outpatient treatment. However, no payment information is available, so do your own research and request rates.
Understanding The Addiction
Drug addiction is the physical and/or psychological dependence on a drug and belongs to a group that doctors often call "related disorders". No matter what the object of dependence is, the disease has a similar mechanism of action. For example, drug addiction and alcoholism are the same conditions but with a different substance.
Drug addiction can be eliminated by means of medicine and psychological services only. Like any other disease it does not respond to shouting, threats or pleading, only to a carefully regulated and directed treatment by healthcare professionals. The subject of substance abuse is riddled with myths, fallacies, and distortions. They speak of bad or good instead of healthy or sick.
The shame and/or guilt also plays a crucial role: a rare person would admit he or she is addicted, or has a friend or relative with an addiction. This disorder is normally perceived as a vice, a bad habit that you can correct with rules, will, and discipline. Like any other disorder, it is neither a vice nor a lack of willpower.
Here are some facts about dependence:
Addiction has psychological, neurological, social, and biological consequences.
Anyone can suffer from a substance-related disorder; it is not exclusive to any social, economic or cultural aspect.
The person who abuses substances is usually not aware that it is a medical condition, that's why a minority of people agree to undergo substance abuse treatment.
The word "substances" refers to drugs of abuse or medications: hallucinogens, amphetamines, cannabis, cocaine, phencyclidine, inhalants, nicotine, opiates, sedatives, hypnotics, and anxiolytics.
According to the American Psychiatric Association, the primary feature of substance-related disorders is a set of cognitive, behavioral, and physiological symptoms that indicate that the individual continues to use psychoactive substances despite significant problems that they cause since they are affected in one or more of their personal spheres of life (family, work or study, social, physical, economic, or legal).
Possible Signs and Symptoms
Symptoms of addiction usually depend on individual health issues, the dose ingested, the substance used, frequency of the use and tolerance. Some substances can affect both mental state (e.g. mood) and observable behavior. They can even cause neuropsychological symptoms that are difficult to distinguish from those displayed in other mental disorders. For example, some drugs can cause depression, suicidal inclinations, visual or auditory hallucinations and so on.
Common signs and symptoms of addiction include:
Change of perception (hallucinations);
Poor concentration and lack of attention;
Alteration in psychomotor behavior;
Mood swings;
Alteration in moral and judgment;
Antisocial personality disorders;
Depression;
Suicidal thoughts and inclinations;
Aggression or positivity without a visible cause.
Signs and symptoms can persist for hours and even days after the substance can no longer be detected in the body. When doctors deal with dual diagnosis, addiction to psychoactive substances is only part of the disorder- there are other symptoms displayed all along.
Typical Causes of Addiction
There are several types of causes that condition addictive behavior:
Psychological factors are various pathologies in the personal sphere. This includes character accentuations and psychopathy.
Motivational factors and needs are the desire to assert themselves in a team, support a subcultural tradition, or satisfy curiosity. This is often the case for adolescents.
Social factors come into play when a person is raised in a dysfunctional family is at high risk of becoming addicted. This risk increases if the family has a history of alcohol or drug abuse.
There might be some situations and emotions that trigger development of addiction in person. Those usually include poor family relationships, lack of attention, curiosity, rebellion, desire to feel as a part of some company, willingness to get away from problems, traumatic experience, etc.
Common Objects of Addiction
Pretty often, people get addicted to the most toxic substances: alcohol and drugs. Drugs can be natural agents (for example, hashish and marijuana) or chemicals (heroin, sedatives, etc) that affect a person's mental state. They change the way of acting, thinking or feelings of the consumer.
Prescription drugs (sedatives, painkillers) also tend to cause dependence in patients who misuse them. They are designed to be taken in proper doses with the appropriate frequency, thereby benefiting our health, helping to fight disease. However, some people start increasing their dose without consulting a doctor and don't find ways to combat pain and other symptoms in a less harmful way.
Typical Mistakes of Family Members
Many of the families that justify an addict are dysfunctional. The family that has "adapted" to the disorder only breeds the problem: instead of coping with substance abuse together, people decide to indulge the addict making it even worse. The family does not allow the growth of this member.
Some families deny this condition being afraid of their relative called an addict. Such families have a few common characteristics: lack of clear boundaries, absence of social norms, incongruity in hierarchies. Addicts raised in such an environment usually have poor relationships with parents. They may also lack a defined stable occupation and face the risk of falling into crime.
Dependency Management Principles
There are several steps that an addict should make in order to start the path to recovery:
Admitting your illness. Any addiction specialist would agree: a person becomes able to cope with addiction when she or he admits that they are sick and addicted to drugs or alcohol. Accepting yourself in this position and realizing that it can be changed is the first step to recovery.
Complete rejection of addictive substances. Alcoholism and drug addiction are lifelong diagnoses and the body triggers the disease mechanisms at the first drink or dose. To cure the disease, you need to understand: indulging yourself and using substances "only on holidays without consequences" will not work.
Support from loved ones. If relatives understand that the loved one suffering from addiction is their common problem, they can combat the disease together and the treatment will be successful.
New values. During rehabilitation, the patient develops new models of behavior, values, principles of life without dependence in a healthy environment. New skills are consolidated, a person learns to take responsibility for his actions.
How Rehab Centers Can Help
Dealing with addiction requires determination, strong will and endless support. But most importantly, it calls for medical intervention. Only high-quality services provided by licensed doctors and addiction specialists can bring about positive changes. If an addict wants to get rid of the disease, going to a rehab center is obligatory. It takes time and money but long-lasting results are well worth the effort – they can save a person's life.
Main Treatment Approaches
Rehabilitation is usually divided into several stages. Some centers provide only detox or outpatient counseling, while others combine the whole range of treatment modalities in step-by-step programs.
Most widespread approaches include:
Detoxification is aimed at cleansing a body from toxic substances and managing withdrawal symptoms (pain, fever, etc.). As a rule, it takes 3-7 days depending on the type of drug and the patient's physical state.
Medication-assisted therapy (MAT) serves two purposes. First, it allows for a smooth, painless withdrawal in case of heavy addiction (for example, long-lasting heroine dependence). Secondly, medications restore health and eliminate the toxic effects of drugs.
Inpatient (residential) and outpatient types of treatment boil down to individual and group counseling. Specialists use various evidence-based therapies (CBT, DBT, EMDR, the Matrix model, 12-step program, and so on) to discover the causes of addiction and nurture a positive mindset in patients. This stage is essential as it lays the foundation for a sober, fulfilled life.
The transitional stage helps people return to normal life: get basic social skills, find a job and housing, restore relationships with family and loved ones, realize their strengths and responsibility for everything that happens.
Aftercare support is highly recommended for everyone who wants to combat addiction forever. It consists of counseling sessions and group therapy where people support each other and learn relapse prevention skills.
Factors to Consider When Choosing a Rehab Center
Once a person decides to get rid of dependence and its roots, it's important to find a suitable rehabilitation center. All in all, the results of treatment depend on the quality of services provided, qualification and competence of the team, as well as conditions of the office/residential facility.
So, what exactly should be taken into consideration when a person is searching for a worthy rehab?
Types of services available. While some people are okay with outpatient treatment (i.e. counseling), others need a holistic approach and complete withdrawal from their current social environment. Start with professional assessment: specialists will elaborate a complete treatment plan that includes all necessary services (counseling groups, therapies, activities, medication-assisted treatment and so on).
Location and condition of facility. First and foremost, define how far a center should be located – it will help you avoid transportation issues. For example, customers getting outpatient services would prefer an office within the city borders. Those who want residential treatment would better be away from addicted friends or abusive family members. In such cases, patients opt for rehabs located in suburbs. Some organizations even don't disclose the address of residential locations to prevent unwanted guests.
Staff-to-patient ratio. It makes no sense to stay in a huge community served by a few doctors. Ideally, the proportion should be up to 1:10 (doctors to patients) for everyone to get enough attention from specialists.
Cost and insurance. Try to figure out how much treatment in the chosen center cost. Too expensive? Don't despair: many rehabs accept insurance plans. You can verify your insurance by contacting them directly or filling in a special form on the official website. Besides, some rehabs accept donations and cover expenses fully or partially. Patients can also find a sponsor. Faith-based rehabs offer free treatment in exchange for certain contributions (working in the community, sharing a part of salary, etc.).